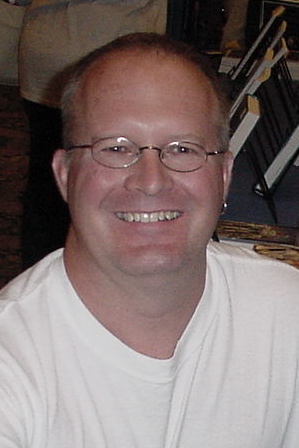 No one has been building Berlin Systems, Sumps, Wet/Drys and Protein Skimmers longer than Jeff Turcheck at Lifereef!
34 years of fantastic Lifereef products, superior design, experience, and great customer service!
No other company has been making Berlin Systems, Wet/Dry filters, reliable Protein Skimmers, Fail-Proof Prefilter Overflows, and numerous other reef filtration products as long as Lifereef.
The Lifereef products are designed to be as simple as possible yet provide all the necessary functionality. This reduces complexity, parts, maintenance requirements, and obsolescence. The more complex the product the more problems encountered and the more costly to repair/replace, and more often than not marketing jibberish.
Since 1984 Jeff has been supplying beginners to experienced hobbyists with fantastic products and continues to put quality before quantity, truthfulness before shady advertising and shoddy marketing, tested designs and not marketing fads or gimmicks, and real expectations instead of unrealistic and misleading claims or promises.
Customer service is always an enjoyable part of the Lifereef experience both before and long after the sale.
Calls and emails are returned within 24 hours and often the same day.

Lifereef, for 34 years providing hobbyists with what works and remains a stable product year after year after year.
---
OUR COMPETITORS GUARANTEE YOU AN OBSOLETE PRODUCT, WITHIN A YEAR........ Hobbyists tell me all the time they are fed up with products that only last a year, product stability has gone by the wayside in everything, but not Lifereef.....
Why buy obsolete when you can have a Lifereef product for life, and be assured that we are not going to change it every year and leave you with a useless system or component......
---
Sad, but true....... and unfortunately, might be you......
Most of the orders I receive are from those that have tried putting together a sump from company A, a protein skimmer from company B, a pump as recommended by someone on a bulletin board, numerous trips to the hardware store to get more parts, fittings, hose/pipe, more fittings, more pipe, more hose, more time on the bulletin boards, etc. Once up and somewhat running they then spend weeks and months working out more problems such as turbulence, micro-bubbles, noise, too small of a sump, overflowing sumps, overflowing aquariums, refugium problems, then back to the bulletin boards for more "advice" from those wanting to help but cause even more problems.
Recently more companies are offering complete systems (of which we've been doing this for 34 years), and again hobbyists are coming to Lifereef to replace these mass-produced high-maintenance ongoing costly things. Numerous problems from high maintenance filter socks, tiny in-sump refugiums, high maintenance and inefficient needle-wheel protein skimmers, and hoses/cords all over the place to support a fiasco of media reactors and pumps. Not the Lifereef systems.
From the day your boxes arrive with your very own Lifereef System (or any Lifereef product) you will love unpacking the system, admiring it, installing it (all parts are included), filling it with water for a "dry run" test just to satisfy your curiosity and wonder and amazement that something really works as advertised, adding salt, filling the LifeReefugium with sand and algae, maybe a fish or two, adjusting the protein skimmer, and sitting back in wonder that it all really works! No time wasted on bulletin board "advice", no more trips to the hardware store for odd parts, just pure satisfaction!
You get to stand upright and enjoy the show and view in your aquarium, not be huddled into a dark dank smelly cabinet adjusting your needle-wheel protein skimmer, pulling out filter socks, dealing with a dead refugium, messing with clamps/bolts/hoses/pumps on your multitude of media reactors.
And if you happen to be a first-time Lifereef customer: Congratulations! You have just saved yourself $$$ and headaches and have joined an exclusive Lifereef community of happy and satisfied customers!
With Lifereef you will never regret your purchase!
---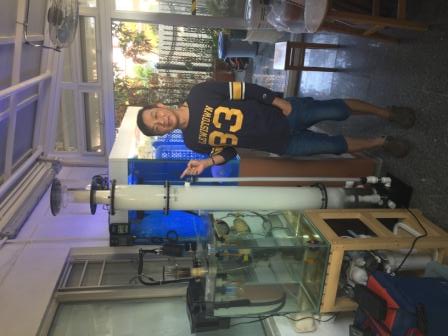 Lifereef VS3-72 with 12" extension making this skimmer a whopping 84" tall! Using as a counter-current protein skimmer with secondary water/bubble input near the top increasing performance.
Tall skimmers are required for larger aquarium volumes, nothing else makes a protein skimmer more efficient at protein/solids removal and nitrate reduction than height, height equals bubble/water contact time.
---
Here is a CLF1 Berlin System with a LifeReefugium, Media Reactors, and a Lifereef Calcium Reactor all neatly "stuffed" into a stand. Click on photo....
---
---
February 23, 2018
---
Lifereef Systems and the TRITON method work great! Watch this customer video showing his Lifereef Berlin System with a LifeReefugium:
Lifereef using Triton
---
COOL! Lifereef hobbyists are using the Lifereef sumps and LifeReefugiums with the Triton method! Much easier to install a two-piece sump/refugium system than trying to get one of those huge sump/refugium from the competitors into a stand. Much more efficient design and performance as well as less maintenance than those other sumps!
Select a Lifereef Berlin Sump and add to this a LifeReefugium to fit. Easy install, easy hookup, easy maintenance, super-efficient venturi protein skimmer, deeper refugium water depths, just fantastically designed and functional systems!
---
Just completed fw algae sump, or a fantastic frag grow-out tank! Dual mechanical and/or chemical compartments, large frag area, and sump. compartment.
Built to order per your required size, colors, your requests.
---
VS3-24 Venturi Protein Skimmer in-sump or external, same skimmer. Features Self-Cleaning Venturi System, cup overflow protection, Silent Operation, Ozone no problem, 8" cup option, any water pump can be used with 900 gph minimum output.
Venturi skimmes are NOT needle-wheel and have many advantages over needle-wheel skimmers with the number one being BETTER SKIMMING, MORE SOLIDS COLLECTION, and NOT OBSOLETE the following year.
---
Venturi Protein Skimmers are more efficient, less hassle and virtually maintenance free than any needle-wheel protein skimmer........
READ: VENTURI VS NEEDLE-WHEEL
---
---
CABINET CANDY!!!!!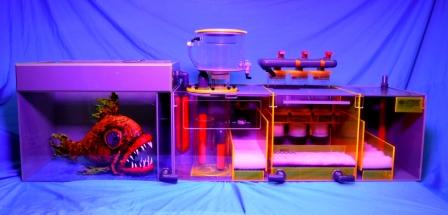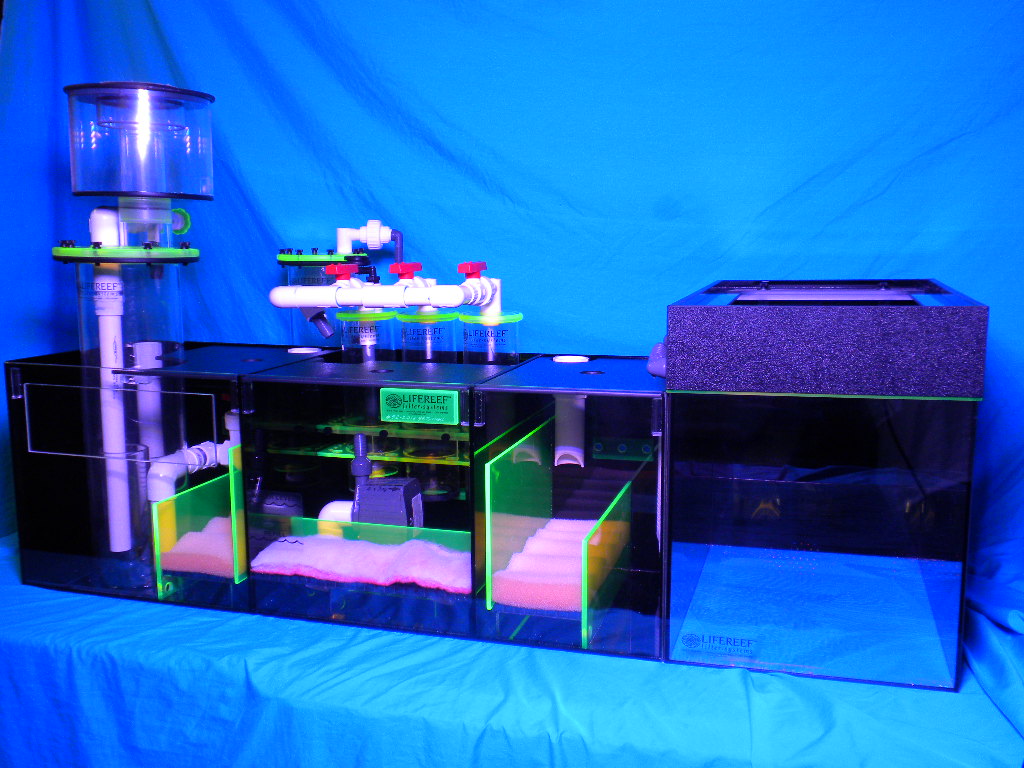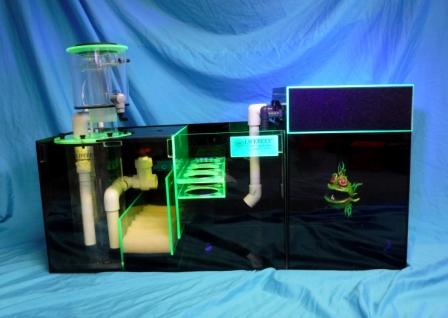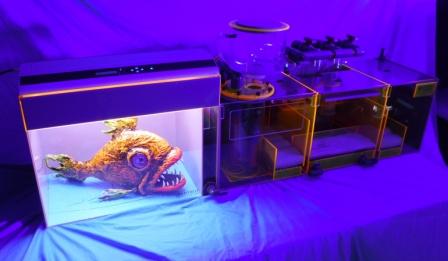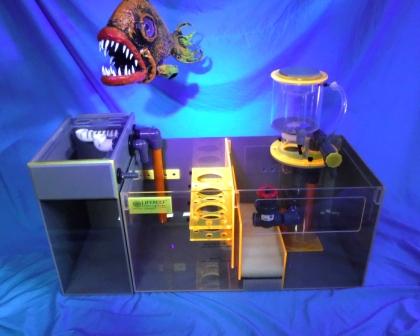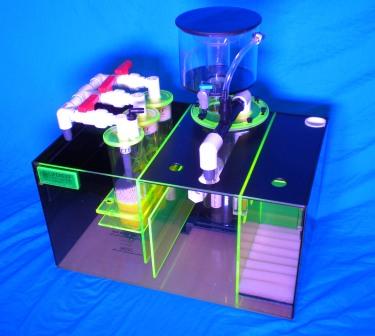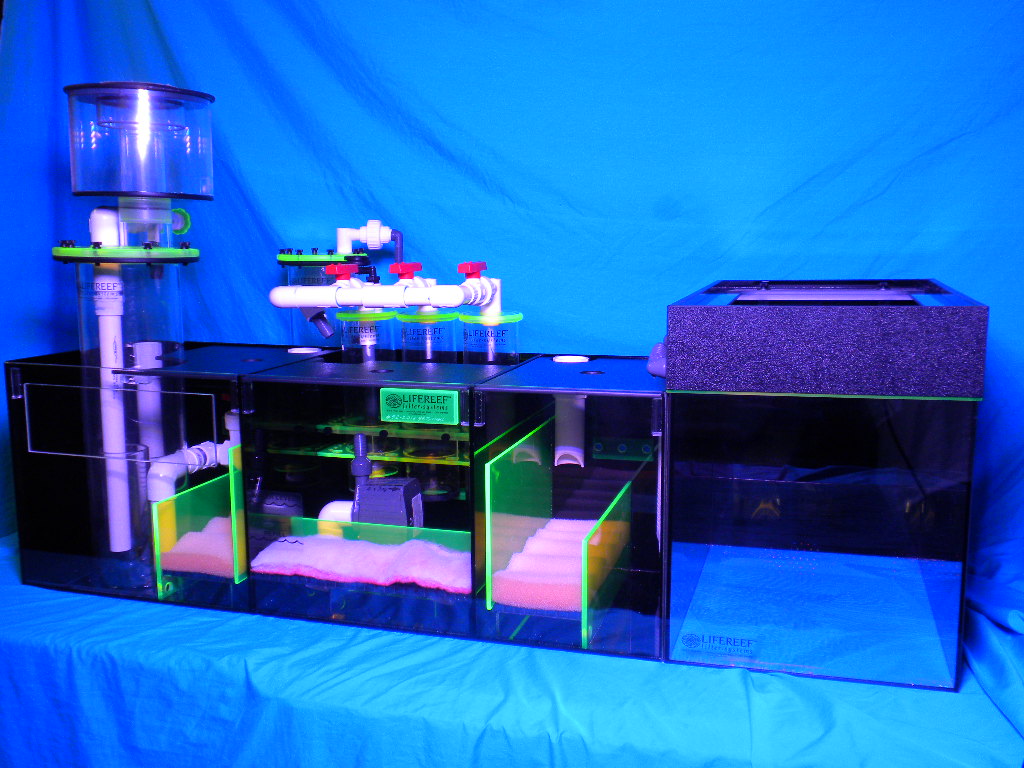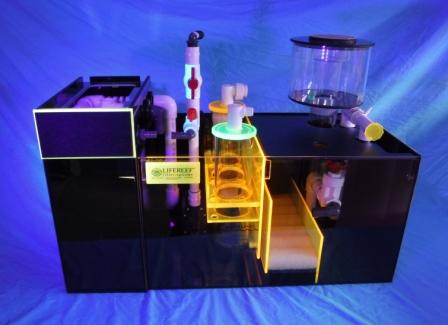 ---
CUSTOM WORK
Custom work always welcome whether it be your sump design, custom prefilters and overflows, refugiums, flange/gasket sets, acrylic reservoirs, etc.
Bust your expensive protein skimmer? Email me a photo for a quote for repair. Most skimmer companies rarely carry parts because their skimmers are obsolete every year.
For a quote Email your sketch to lifereef@lifereef.com