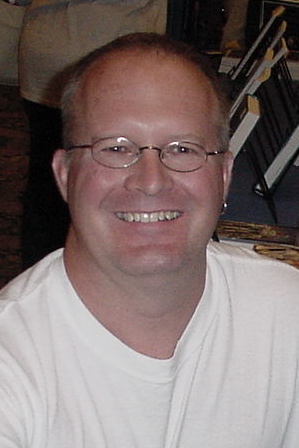 No one has been building Berlin Systems, Sumps, Wet/Drys and Protein Skimmers longer than Jeff Turcheck at Lifereef!
32 years of fantastic Lifereef products, superior design, experience, and great customer service!
No other company has been making Berlin Systems, Wet/Dry filters, reliable Protein Skimmers, Fail-Proof Prefilter Overflows, and numerous other reef filtration products as long as Lifereef.
The Lifereef products are designed to be as simple as possible yet provide all the necessary functionality. This reduces complexity, parts, maintenance requirements, etc. The more complex the product the more problems encountered and the more costly to repair/replace.
Since 1984 Jeff has been supplying beginners to experienced hobbyists with fantastic products and continues to put quality before quantity, truthfulness before shady advertising, tested designs and not marketing fads or gimmicks, and real expectations instead of unrealistic and misleading claims or promises.
Customer service is always an enjoyable part of the Lifereef experience both before and long after the sale.
Calls and emails are returned within 24 hours and often the same day.

Lifereef, for 32 years providing hobbyists with excellence!
---
Sad, but true....... and unfortunately, might be you......
Most of the orders I receive are from those that have tried putting together a sump from company A, a protein skimmer from company B, a pump as recommended by someone on a bulletin board, numerous trips to the hardware store to get more parts, fittings, hose/pipe, more fittings, more pipe, more hose, more time on the bulletin boards, etc. Once up and somewhat running they then spend weeks and months working out more problems such as turbulence, micro-bubbles, noise, too small of a sump, overflowing sumps, overflowing aquariums, refugium problems, then back to the bulletin boards for more "advice" from those wanting to help but cause even more problems.
Then when that frustrated hobbyist does further research and finds Lifereef, usually after numerous recommendations and testimonials from the bulletin boards, they give Lifereef a look, like what they see, enjoy what I have to say, and love what has been built for them.
From the day your boxes arrive with your very own Lifereef System (or any Lifereef product) you will love unpacking the system, admiring it, installing it (all parts are included), filling it with water for a "dry run" test just to satisfy your curiosity and wonder and amazement that something really works as advertised, adding salt, filling the LifeReefugium with sand and algae, maybe a fish or two, adjusting the protein skimmer, and sitting back in wonder that it all really works! No time wasted on bulletin board "advice", no more trips to the hardware store for odd parts, just pure satisfaction!
And if you happen to be a first-time Lifereef customer: Congratulations! You have just saved yourself $$$ and headaches and have joined an exclusive Lifereef community of happy and satisfied customers!
With Lifereef you will NEVER regret your purchase!
---
OTHERS GUARANTEE AN OBSOLETE PRODUCT...
Notice how every year the competition changes their products? Did they make it wrong, did they make it better, more likely it is just to gain more sales and now you are left with a useless, and costly, component. No parts, no service, or costly parts.

But at Lifereef the goal is to design and make products that serve their intended purpose, as simplified as possible, do so without constant user intervention, and not change them every year.

When a good product works you continue to build it, support it, and have a customer that doesn't have to worry about having to spend more money.

Proven designs. Proven performance. No obsolescence.
(product improvements may be made at any time due to hobbyists demand or industry changes but that does not mean the original product has been discontinued and the original design remains intact and supported)
---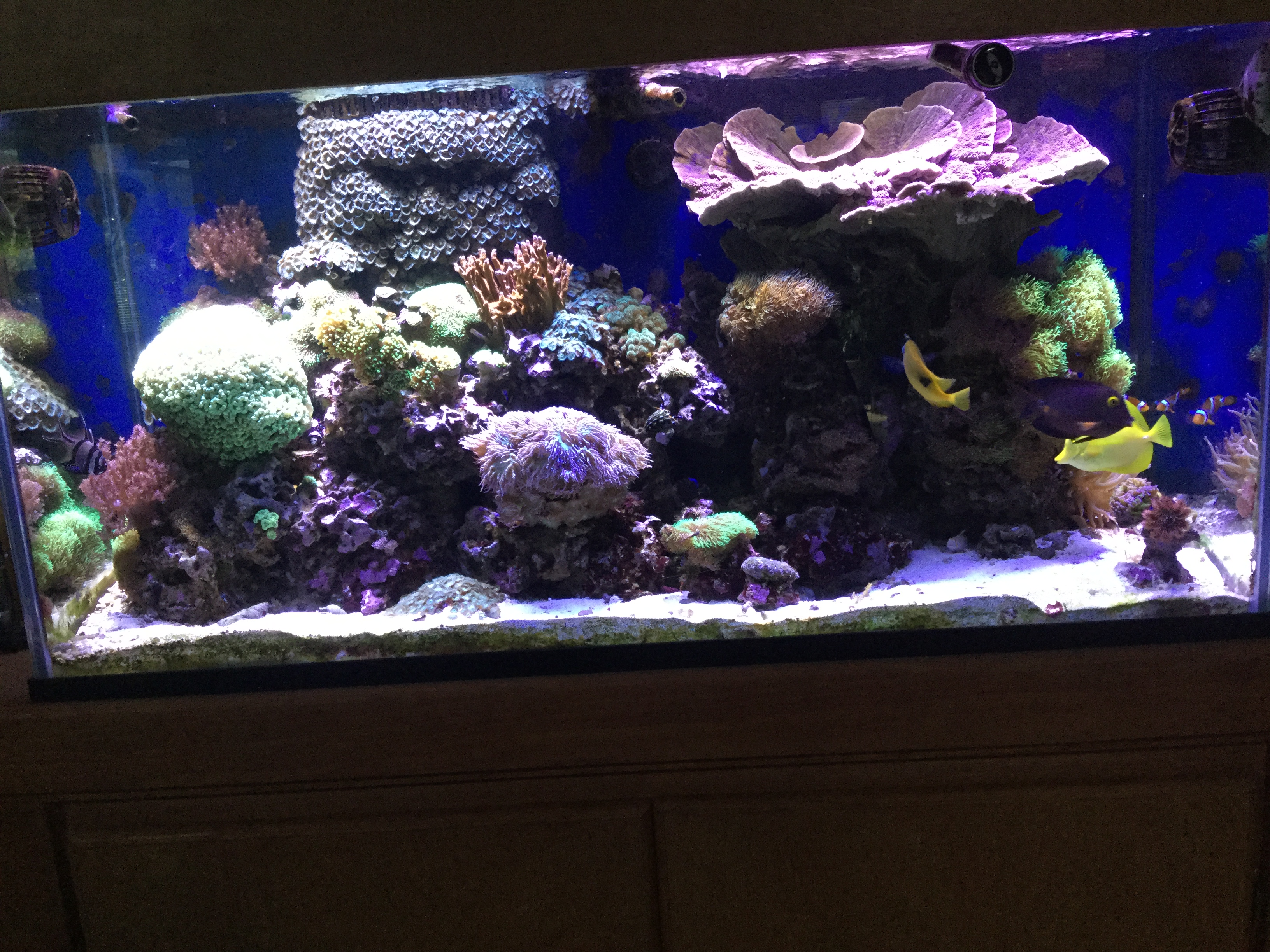 This hobbyists aquarium is going on 6 years using a Lifereef CLF1 Compact Berlin System, SVS2-24 in-sump protein skimmer, LifeReefugium, and an LCR2 Calcium Reactor. Fantastic looking aquarium David, from Jacksonville Florida!
---
NEW IDEA or another company copying what Lifereef has been doing for over 20 years....

A popular skimmer company has come out with a "new" feature on their protein skimmers, a self-cleaning venturi. Lifereef has had this feature for over 20 years.... Lifereef was ahead of the pack back then, and continues to have some of the nicest products and in continuous production without major change for over 26 years. All the rest change their products every year. Where do you think you will get the best service, continued parts availablility, products that you don't have to trash because you can't get parts or service? LIFEREEF! of course!

32 years of product design and fabrication, listening to hobbyists problems with their current products and not doing that with Lifereef is why Lifereef is the choice when the others fail. All others look similar to each other, Lifereef looks different, for reasons, it just flat-out works!
Daily/Weekly Updates..... October 25
---
Congratulations to Jerry Lunn (TX), who got the first "Signature Series" Lifereef Filter System!
His Lazer Green-topped calcium reactor is on the way!
Follow the unpacking, assembly, setup, and comments at Reef2Reef
LF1-300S Signature Series (sig series systems feature Lazer Green and Midnight Black acrylics), SVS3-30 protein skimmer, 24" LifeReefugium, and LCR2 Calcium Reactor (shown behind sump in lower photo)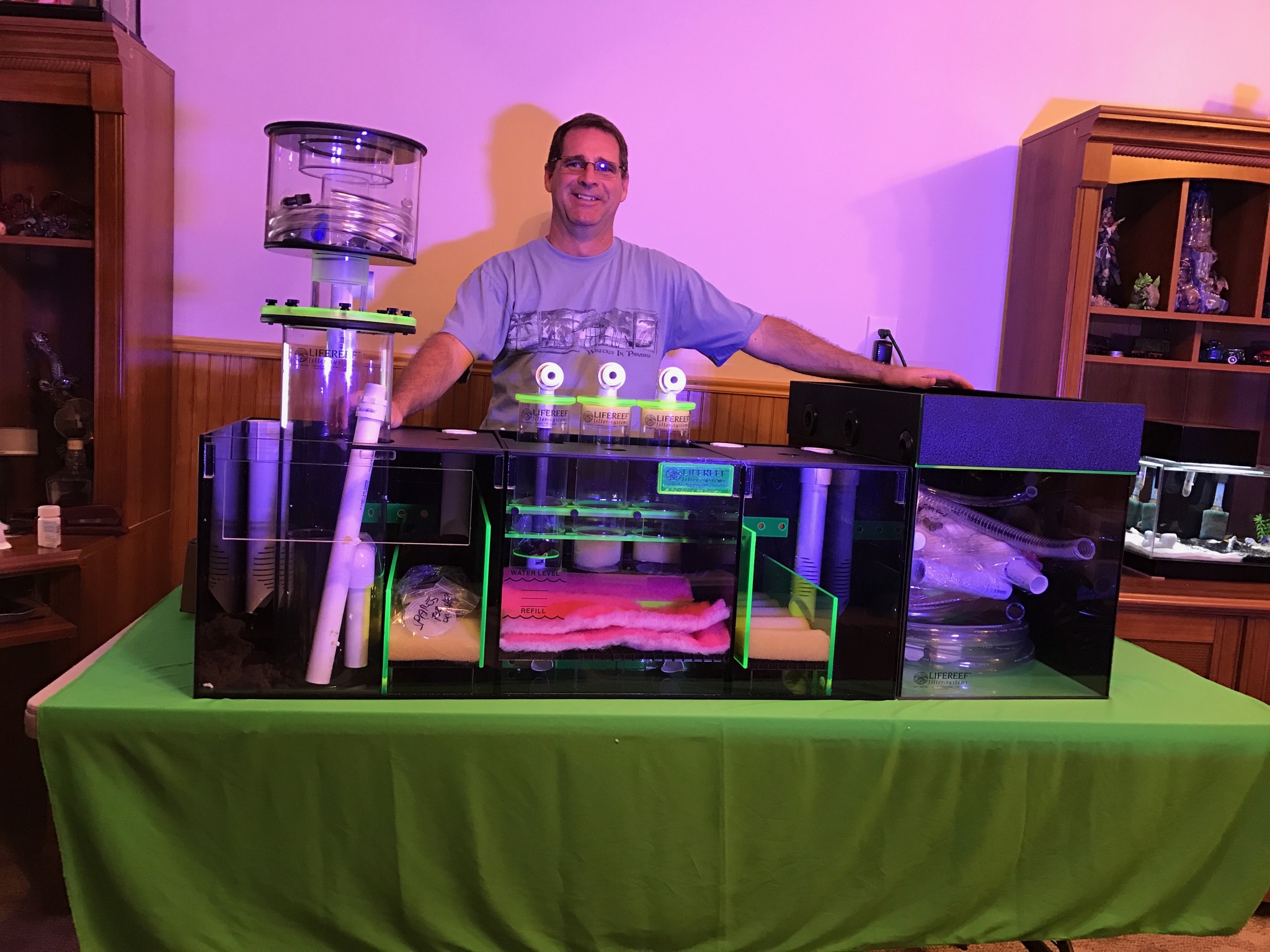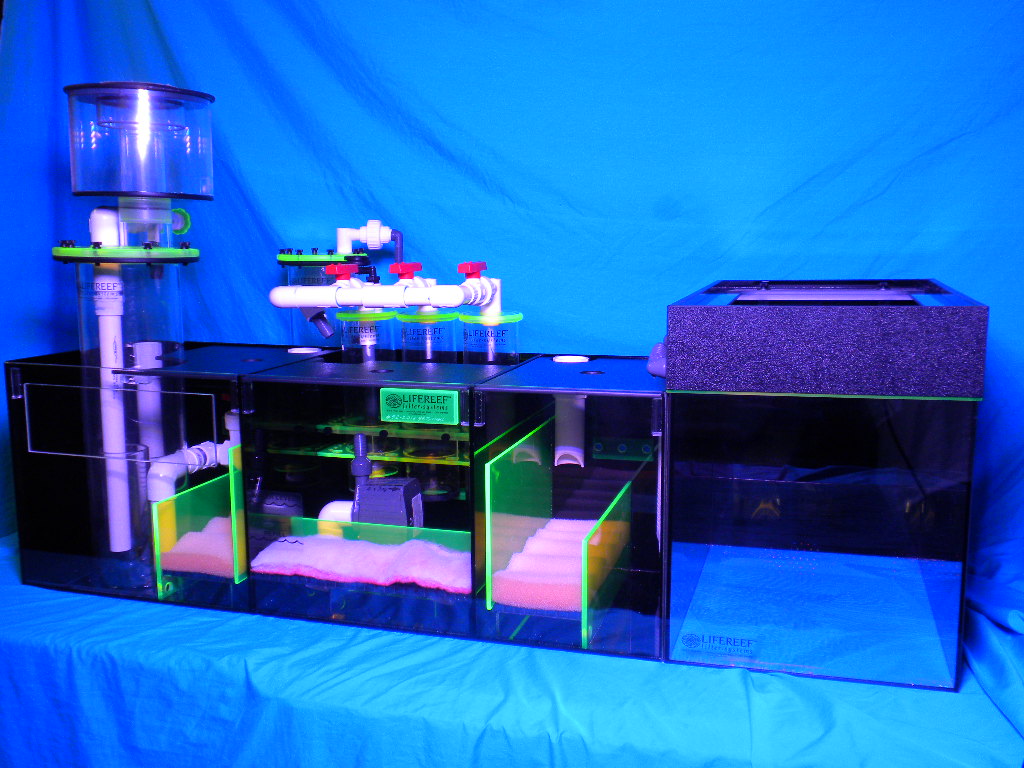 ---
Lifereef Product Availability
Sumps, Wet/Dry Filters, Custom Sump projects: October (for now)
24" Protein Skimmers: IN STOCK
30" Protein skimmers: IN STOCK
36" Protein skimmers: IN STOCK
48", 60" and 72" Protein Skimmers: 2 weeks from time of order.
Prefilter for RSM aquariums: IN STOCK
Prefilter, Nano: IN STOCK
Prefilter, Standard: IN STOCK
Prefilters, Slimline: IN STOCK
Prefilters, Double: IN STOCK
Prefilters, Double Slim-Line: IN STOCK
Filter Cylinders: IN STOCK
Bio-Reactors: IN STOCK
Calcium Reactors: IN STOCK, getting low, only made a few times per year
---
NEW CHANGES and new "Signature Series"....
FOR ALL LIFEREEF BERLIN SUMPS and Wet/Drys!
After 22 years of non-changing Lifereef filters (yes they are that good that they don't have to change every year like all the others) I've made some nice changes and improvements! Overall design and functions remain the same, but with the following changes and added features:
1. All sumps are going from 13" wide (front-to-back dimension) to 14" wide.
2. Media Reactors (Filter Cylinders) are now 3.5" in diameter vs the previous size of 3", an increase of 40 percent more holding capacity!
3. The Accessory Rack that holds the media reactors now has a place to insert up to five 1/4" input lines and still retains the three or four rear panel threaded inputs for those 1/4" threaded fittings/connectors.
4. Sumps now feature black interior baffles (short baffles are still clear) for some great contrast and if other colors are wanted this can be discussed.
As each sump model is built for a customer it will be photographed for this website and replace the older photos. The general design has not changed, yes it is that good! For starters this is the NEW CLF2 with full media reactor compliment (bio-reactor shown up front) and with a 20" LifeReefugium. This is as "dirty and cluttered" and as "neat and clean" as this system will look in your cabinet! Hoses and hose clamps have been left out so that I could set this up, photograph, and send off to the anxious hobbyist! Shoot, take off your cabinet doors to show this off, your friends will want to study your beautiful and logical Lifereef System and fantastic venturi skimmer and lovely LifeReefugium vs their cluttered troublesome sock-sumps and needle-wheel maintenance hogs!
Only three pumps are needed to run the entire system and you can do it all at once or add the media reactors and LifeReefugium as needed.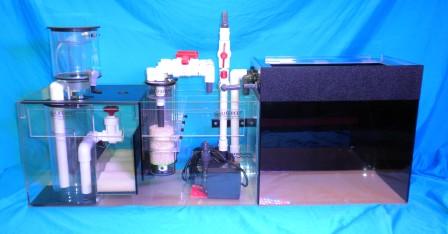 I have more photos which I'll provide to interested hobbyists. Over time I'll add more detail photos on the Berlin System/Sump page, I was just anxious to get this up as many have been waiting for the changes I was going to make and wanted some preliminary photos
click on photo for HUGE photo!
AVAILABLE NOW (well, yours has to be built), but I've not had time to take some fantastic photos to show off this Flourescent Lazer Green system backed with Midnight Black acrylic! Put on your shades bright!
This color combo will be the "Lifereef Signature Series" as it is truly a different look for the Lifereef designs. Even the tops of the Media Reactors are green, and the top of the Protein Skimmer body! This thing looks more than fantastic when lit with a UV light.
Open your cabinet doors and let the show begin!!!!!!!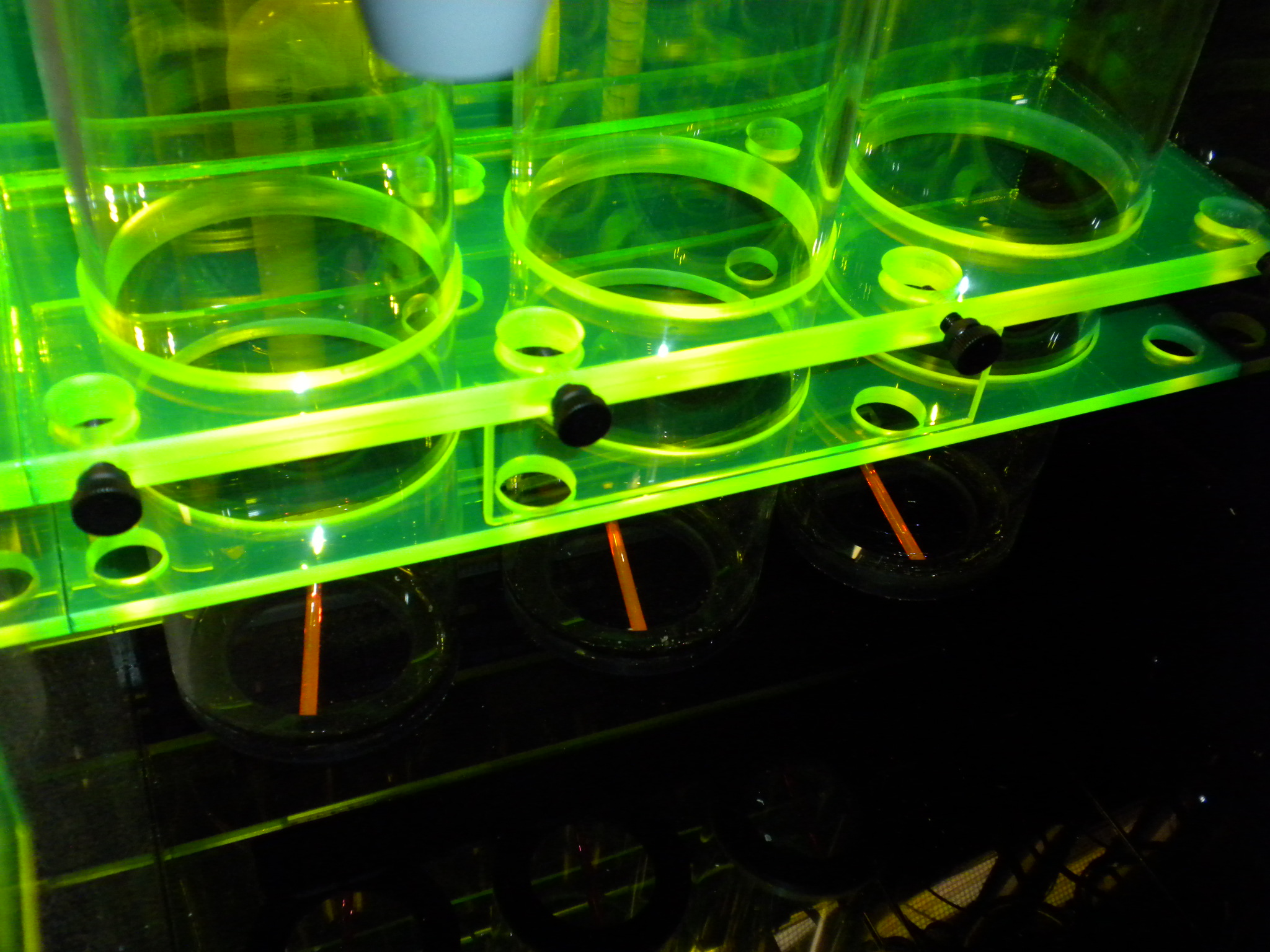 WOW!!!!!
---
A fantastic Protein Skimmer review HERE
A Lifereef Protein Skimmer won't be obsolete next year as many other skimmers will, or require another very costly needle-wheel pump. Any standard aquarium water pump can be used with a Lifereef Protein Skimmer. You will have a Lifereef Protein Skimmer for life, not just one year.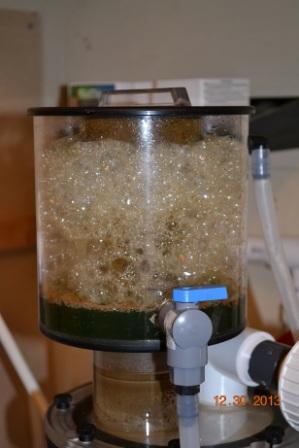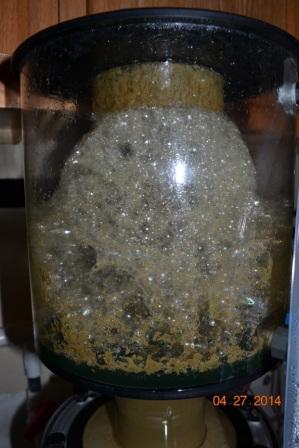 ---
---
CUSTOM WORK
Custom work always welcome whether it be your sump design, custom prefilter, refugium, flange/gasket pairs, acrylic reservoir, etc.
For a quote Email your sketch to lifereef@lifereef.com