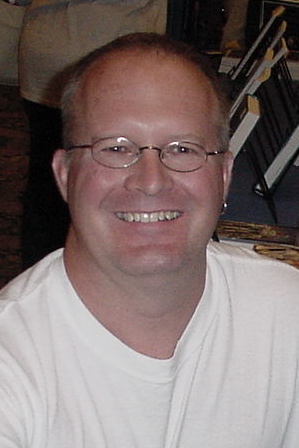 No one has been building Berlin Systems, Sumps, Wet/Drys and good Protein Skimmers longer than Jeff Turcheck at Lifereef!
30 years of fantastic Lifereef products, superior design, EXPERIENCE, and great customer service!
No other U.S. company has been making Wet/Dry Filters, Berlin Systems, reliable Protein Skimmers, Fail-Proof Prefilter Overflows, and numerous other reef filtration products as long as Lifereef.
Growing up in an environment filled with a garage full of machine tools, woodworking tools, milling machines and metal lathes, a dad that allowed Jeff to discover all these wonderful "playthings" plus 10 years in the aerospace industry as both a toolmaker and a draftsman Jeff has over 50 years experience in all aspects of design and fabrication of metals, woods, and plastics, and he's only 56! (It all started with a Playskool worktable with tools!)
Since 1984 Jeff has been supplying the discriminating hobbyist with fantastic products and continues to put quality before quantity, truthfulness before false advertising, tested designs and not fads or gimmicks, and real expectations instead of unrealistic and misleading claims.
Customer service is always an enjoyable part of your Lifereef experience both before and long after the sale!
Calls and emails are returned the same day, or no later than 24 hours.
Lifereef, for 30 years providing hobbyists with excellence!
---
Sad, but true....... and unfortunately, might be you......
Most of the orders I receive are from those that have tried putting together a sump from company A, a protein skimmer from company B, a pump as recommended by someone on a bulletin board, numerous trips to the hardware store to get more parts, fittings, hose/pipe, more fittings, more pipe, more hose, more time on the bulletin boards, etc. Once up and somewhat running they then spend weeks and months working out more problems such as turbulence, micro-bubbles, noise, too small of a sump, overflowing sumps, overflowing aquariums, refugium problems, then back to the bulletin boards for more "advice" from those wanting to help but cause even more problems.
Then when that frustrated hobbyist does further research and finds Lifereef, usually after numerous recommendations and testimonials from the bulletin boards, they give Lifereef a look, like what they see, enjoy what I have to say, and love what has been built for them.
From the day your boxes arrive with your very own Lifereef System (or any Lifereef product) you will love unpacking the system, admiring it, installing it (all parts are included), filling it with water for a "dry run" test just to satisfy your curiosity and wonder and amazement that something really works as advertised, adding salt, filling the LifeReefugium with sand and algae, maybe a fish or two, adjusting the protein skimmer, and sitting back in wonder that it all really works! No time wasted on bulletin board "advice", no more trips to the hardware store for odd parts, just pure satisfaction!
And if you happen to be a first-time Lifereef customer: Congratulations! You have just saved yourself $$$ and headaches and have joined an exclusive Lifereef community of happy and satisfied customers!
With Lifereef you will NEVER regret your purchase!
---
Absolutely FANTASTIC!!!
My Lifereef System had everything needed for me to install in a few hours: fittings (more than needed), hose/tubing (more than needed), clamps (more than needed), even the Teflon tape! I didn't have to make a single trip to the hardware store to find odd parts or worse, metric fittings, and could set up my system all in a few hours, what a fantastic system, thanks Jeff!
---
04/04/14 Received this email from a hobbyist using a pin-wheel skimmer: I have no question a Venturi style skimmer is better than a pin wheel. I have 3 main issues with this stupid V#$*#@. 1: The air intake alway, ALWAYS, builds up a big salt plug in about 3-4 days. As the plug builds the skimmer level increases until it overflows. Usually it grows relatively un-noticed then breaks off and jams the intake completely creating an instant overflow which I don't pick up on with it being in my basement. 2: The pinwheel. Don't even get me started. In just over a year, I've replaced that stupid ceramic shaft twice. 3: Don't ever, EVER, shut your skimmer off. The pin wheel wont start turning by itself, or at least very rarely. Stupidest thing I've ever seen.
---
Lifereef offers a logical solution to a complete filter system, all designed to funtion as a true system, not just a bunch of oddball parts stuffed into a "generic" filter sock box.
---
Ever notice how many skimmers that have been touted as "the best skimmer ever" only to be discontinued? And it's not because they have a better skimmer or noticeable improvement. Nope, Most times it is due to lack of sales so they have to come up with another gimmick and then come up with reasons why it is better than their previous skimmer. The Lifereef skimmer has remained unchanged for 23 years because it cannot be improved, it is the best at what it does, remove proteins from the water. Look at the photos on the right. Does your skimmer do this? No expensive proprietary pumps needed, no weird parts, no excessive plumbing, just pure skimming in a simple and efficient design. Go Lifereef first, or waste time and money on fancy gimmicks and unrealistic claims, you decide how you want to waste your money, we'll be here when you come to your senses.......
---
We spend our time making products that work, the competition spends their time coming up with the next new advertisement.
---
CUSTOM WORK always welcome whether it be your sump design, custom prefilter, refugium, acrylic reservoir, etc. Fax your diagram/sketch to 303-973-2044 for a fast quote, or email it to lifereef@denver.net
Daily/Weekly Update April 23
---
WEEKLY SUMP and FILTER BUILD SCHEDULE
Click above if you have a system on order to see where you are in the que. All other product availability is listed below.
---
Two skimmer reviews, one using Jebao DC pump
and another using the MagDrive9.5:
SVS2-24 using Jebao DC water pump
SVS3-24 using MagDrive9.5 water pump
The Lifereef protein skimmers are so quiet you can hear your fish whisper! And they're thanking you for using a Lifereef and not a needle-wheel contraption!
Been selling a lot more skimmers lately to ex-needle-wheel hobbyists who finally realize the problems with those skimmers. Call me to discuss what a Lifereef will do for you, or go Here to read a ton of info.
---
Product Availability
Out of stock on most items but working as fast as humanly possible to get each back in stock asap. And that folks, is how popular and in demand the Lifereef products are!
24" Protein Skimmers: IN STOCK
30" and 36" skimmers: IN STOCK
Prefilter, RSM aquariums: OUT OF STOCK
Prefilter, Nano: IN STOCK
Prefilter, Double: IN STOCK
Prefilters, Slimline: OUT OF STOCK
Prefilters, Standard: OUT OF STOCK
Calcium Reactors: OUT OF STOCK
Filter Cylinders: OUT OF STOCK
Bio-Reactors: OUT OF STOCK
Sumps, Wet/Drys: NEVER STOCKED, must order to have one made.
This allows you to make custom requests!
Sump, Wet/Dry, Custom Sumps: Now taking orders for Oct.
---
2 SYSTEMS FOR IMMEDIATE SHIPMENT!:
CUSTOM SYSTEM B
24 X 24 X 16 (23 TO TOP OF SKIMMER)
$1349.00: Sump/Refugium, return pump, SVS2-24 in-sump protein skimmer with pump, return pump, refugium lighting, hoses, clamps, fittings.
Optional 2X Filter Cylinders and pump $169.00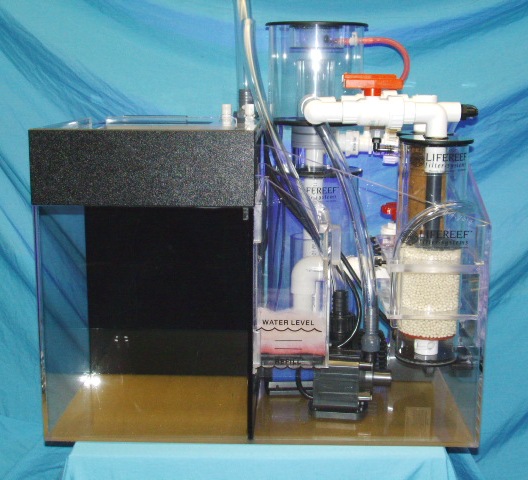 AND.....
LF2-300 Wet/Dry Trickle Filter $979.00
(Media Reactors extra)
BOXED AND READY TO SHIP!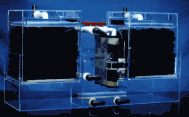 ---
DOES YOUR NEEDLE-WHEEL BUBBLE-PLATE, CONE PROTEIN SKIMMER PRODUCE A SKIMMATE LIKE THIS? NOPE....
If your skimmer isn't producing the kind of skimmate as shown below, you need a better skimmer. Look at that dry foam, look at that dark skimmate, all because of a fantastic skimmer design! No cone, no bubble plate, no needle-wheel, just raw venturi power and a time-proven design!
More contact time, better efficiency, low maintenance, and easy to set up and adjust, only one adjustmnet needed!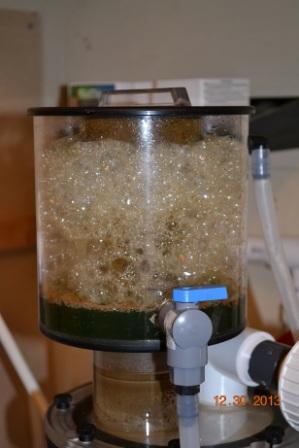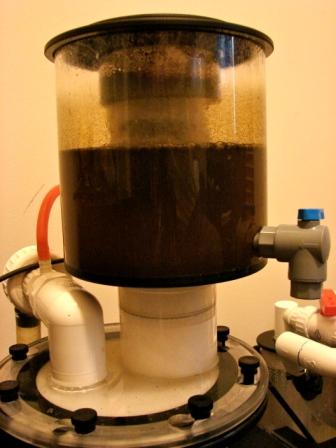 Are you ready to get out of the hobby?
Maybe you just need a more efficient skimmer.
Click here:Protein Skimmers
---