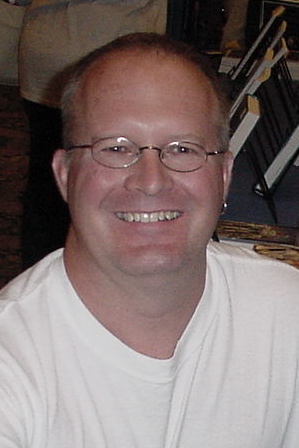 No one has been building Berlin Systems, Sumps, Wet/Drys and Protein Skimmers longer than Jeff Turcheck at Lifereef!
30 years of fantastic Lifereef products, superior design, EXPERIENCE, and great customer service!
No other U.S. company has been making Wet/Dry Filters, Berlin Systems, reliable Protein Skimmers, Fail-Proof Prefilter Overflows, and numerous other reef filtration products as long as Lifereef.
Growing up in a home (and garage) filled with an abundance of machine tools, woodworking tools, milling machines and metal lathes and parents that allowed Jeff to discover all these wonderful "playthings" and later years in the aerospace industry as both a toolmaker and a draftsman has allowed Jeff to be an expert designer/fabricator and an expert craftsman in many materials. Add to this the desire for things to be as simple as possible without sacrificing efficiency many of the Lifereef products are over 20 years "old" yet are still as up-to-date as anything currently on the market. You could say "ahead of their time" way back then yet better than "state of the art" today.
Since 1984 Jeff has been supplying the discriminating hobbyist with fantastic products and continues to put quality before quantity, truthfulness before shady advertising, tested designs and not marketing fads or gimmicks, and real expectations instead of unrealistic and misleading claims.
Customer service is always an enjoyable part of the Lifereef experience both before and long after the sale.
Calls and emails are usually returned the same day.
Lifereef, for 30 years providing hobbyists with excellence!
---
Sad, but true....... and unfortunately, might be you......
Most of the orders I receive are from those that have tried putting together a sump from company A, a protein skimmer from company B, a pump as recommended by someone on a bulletin board, numerous trips to the hardware store to get more parts, fittings, hose/pipe, more fittings, more pipe, more hose, more time on the bulletin boards, etc. Once up and somewhat running they then spend weeks and months working out more problems such as turbulence, micro-bubbles, noise, too small of a sump, overflowing sumps, overflowing aquariums, refugium problems, then back to the bulletin boards for more "advice" from those wanting to help but cause even more problems.
Then when that frustrated hobbyist does further research and finds Lifereef, usually after numerous recommendations and testimonials from the bulletin boards, they give Lifereef a look, like what they see, enjoy what I have to say, and love what has been built for them.
From the day your boxes arrive with your very own Lifereef System (or any Lifereef product) you will love unpacking the system, admiring it, installing it (all parts are included), filling it with water for a "dry run" test just to satisfy your curiosity and wonder and amazement that something really works as advertised, adding salt, filling the LifeReefugium with sand and algae, maybe a fish or two, adjusting the protein skimmer, and sitting back in wonder that it all really works! No time wasted on bulletin board "advice", no more trips to the hardware store for odd parts, just pure satisfaction!
And if you happen to be a first-time Lifereef customer: Congratulations! You have just saved yourself $$$ and headaches and have joined an exclusive Lifereef community of happy and satisfied customers!
With Lifereef you will NEVER regret your purchase!
---
Absolutely FANTASTIC!!!
My Lifereef System had everything needed for me to install in a few hours: fittings (more than needed), hose/tubing (more than needed), clamps (more than needed), even the Teflon tape! I didn't have to make a single trip to the hardware store to find odd parts or worse, metric fittings, and could set up my system all in a few hours, what a fantastic system, thanks Jeff!
---
Lifereef offers a logical solution to a complete filter system, all designed to function as a true system, not just a bunch of oddball parts stuffed into a generic sump/refugium box with a filter sock in the corner, a toy filter.
---
GUARANTEED OBSOLESCENCE........
Companies running a large workforce, employees, overhead costs, advertising campaigns and ads, trade show attendance, etc. must always make changes with their products in order to make you think they are making "progress". This is how companies operate, it's economics.
But when their product becomes lackluster, or tired of the "same ol' thing", sales drop off, they make changes, and a new advertisement. True, some changes are for the better, but more often than not most don't produce a better product, just a different twist on the same product. But now you are left with a product that is obsolete, parts cannot be obtained, customer service can't serve anymore, if they ever did.
Not at Lifereef. All the Lifereef products have been designed to perform, and that they do. Once a product works fantastic why change it. Unlike the competition who has to change their products every year or go out of business the Lifereef products remain unchanged, some now over 20 years "old" and continue to put many similar products to shame. It's no wonder the competition changes so often, they're trying to get it right! Why go for something "new" and be a guinee pig when you can go with products that you can research the history and how satisfied those hobbyists are. Try to find a negative remark or comment about any Lifereef product. Now do the same with any other name-brand, you will see.
At Lifereef fantastic products will continue to be built, year after year after year unless a truly revolutionary idea comes along. Too bad not many have been revolutionary in the industry for the better, instead the change is for the sake of change, not a better product.
Proven design. Proven performance. Satisfied hobbyists. No obsolesence.
The current line of Lifereef products within this webstie will NEVER BE OBSOLETE, they have proven their performance. If something truly revolutionary, and better, comes along it will be added to the Lifereef products, and probably better.
90 percent of Lifereef customers are those that are fed up with the "state of the art" stuff, the other 10 percent haven't had their current "system" long enough to realize the problems yet, but they will, and they'll then be another very satisfied Lifereef customer!
---
Daily/Weekly Update October 1
---
SUMP/FILTER build schedule
If you have a system on order click above to see where you are in the que. All other product availability is listed below where it says "Product Availability".
Now taking sump orders for January and beyond.......
---
READ what Lifereef customers are saying about the Lifereef Protein Skimmers who used to use needle-wheel reefcentral.com
---
**** Aqua Illumination Hydra 26 and 52 ****
!!! Call for fantastic pricing !!!
---
Product Availability
Berlins, Wet/Dry, Custom Sumps, January
24" Protein Skimmers: IN STOCK
30" Protein skimmers: IN STOCK
36" Protein skimmers: IN STOCK
48", 60" and 72" Protein Skimmers: IN STOCK
Prefilter RSM aquariums: IN STOCK
Prefilter, Nano: IN STOCK.
Prefilter, Standard: OUT OF STOCK
Prefilters, Slimline: OUT OF STOCK
Prefilters, Double: IN STOCK
Prefilters, Double Slim-Line: IN STOCK
Filter Cylinders: By the end of the year
Bio-Reactors: By the end of the year
Calcium Reactors: IN STOCK
---
CHANNELING MYTHS and misconceptions regarding flow-through canisters vs fluidized/tumbling canisters
CLICK HERE
---
CUSTOM does not always mean more costly. What it does mean is that you can have special requests for your sump if needed. Size changes, plumbing requirements, specific requests for skimmer requirements, are just some of the special requests I receive.
Have a sump design, frag tank, top-off reservoir, light support, or some other special project you need built? I'll be happy to give you a quote. Check out just a sampling of custom projects at
Custom Showcase
---
CUSTOM SYSTEM for immediate purchase!
CUSTOM SYSTEM B
24 X 24 X 16 (23" TO TOP OF SKIMMER)
$1349.00: Sump/Refugium, return pump, SVS2-24 in-sump protein skimmer with pump, return pump, refugium lighting, hoses, clamps, fittings.
Optional 2X Filter Cylinders and pump $169.00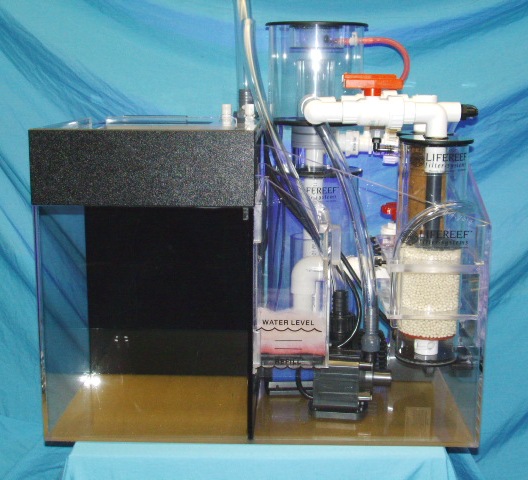 ---
DOES YOUR NEEDLE-WHEEL BUBBLE-PLATE, CONE PROTEIN SKIMMER PRODUCE A GUNK LIKE THIS?
NASTY!!! NASTY!!! And NO SMELLY ODORS!
If your skimmer isn't producing the kind of skimmate as shown below, you need a better skimmer. Look at that dry foam, look at that dark skimmate, all because of a fantastic skimmer design! No weird cone, no bubble plate that needs cleaning, no needle-wheel problems, just raw venturi power and a time-proven design!
More CONTACT TIME, better EFFICIENCY, LOW maintenance, and EASY to set up and adjust, only ONE adjustment needed!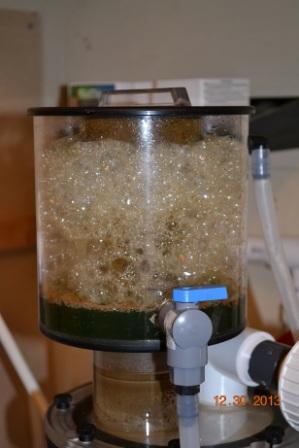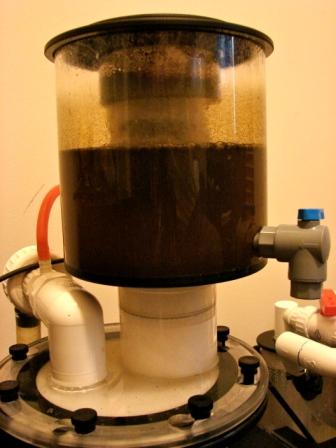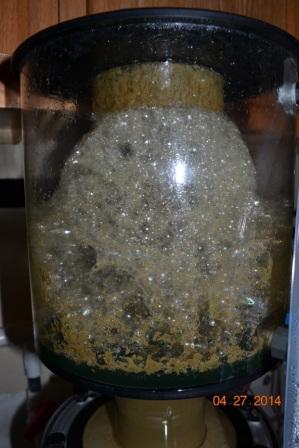 You don't need a cone, you don't need a bubble-plate, you don't need a needle-wheel, and you certainly don't need the high maintenance routine. What you need is a simple and proven design and Lifereef has had it for 23 years. Love your hobby, not the maintenance.
Are you ready to get out of the hobby?
You just need a more efficient skimmer.
Click here:Protein Skimmers
Lifereef Protein Skimmer users forum: reefcentral.com
---
CUSTOM WORK always welcome whether it be your sump design, custom prefilter, refugium, acrylic reservoir, etc.
For a quote Email your sketch to lifereef@denver.net
---