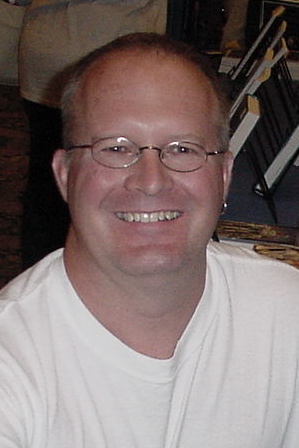 No one has been building Berlin Systems, Sumps, Wet/Drys and good Protein Skimmers longer than Jeff Turcheck at Lifereef!
29 years of fantastic Lifereef products, superior design, EXPERIENCE, and great customer service!

No other U.S. company has been making Wet/Dry Filters, Berlin Systems, reliable Protein Skimmers, Fail-Proof Prefilter Overflows, and numerous other reef filtration products as long as Lifereef.

Growing up in an environment filled with a garage full of machine tools, woodworking tools, milling machines and metal lathes, plus 10 years in the aerospace industry as both a toolmaker and a draftsman (the old drafting board and then CAD), Jeff has over 50 years experience in all aspects of design and fabrication of metals, woods, and plastics, and he's only 55!

Since 1984 Jeff has been supplying the discriminating hobbyist with fantastic products and continues to put quality before quantity, truthfullness before false advertising, and real expectations instead of unrealistic and misleading claims.

Customer service is an enjoyable part of your Lifereef experience both before and long after the sale! Calls and emails are returned the same day, or no later than 24 hours.

Lifereef, for 29 years the name says it all!
---
Sad, but true....... and unfortunately, might be you......
A typical Lifereef customer is usually not a first-time purchaser. Most of the orders I receive are from those that have tried putting together a sump from company A, a protein skimmer from company B, a pump as recommended by someone on a bulletin board, numerous trips to the hardware store to get more parts, fittings, hose/pipe, more fittings, more pipe, more hose, more time on the bulletin boards, etc. Once up and somewhat running they then spend weeks and months working out more problems such as turbulence, micro-bubbles, noise, too small of a sump, overflowing sumps, overflowing aquariums, refugium problems, then back to the bulletin boards for more "advice" from those wanting to help but cause even more problems.
Then when that frustrated hobbyist does further research and finds Lifereef, usually after numerous recommendations and testimonials from the bulletin boards, they give Lifereef a look, like what they see, enjoy what I have to say, and love what has been built for them.
NOTE: I pay no advertising fees on any bulletin board for "gratuities". I point this out because it is often a bulletin board moderator will pull off any negative comments against one of their advertisers. I often challenge anyone to find a negative comment or remark about any Lifereef product or my customer service, you can't.
From the day your boxes arrive with your very own Lifereef System (or any Lifereef product) you will love unpacking the system, admiring it, installing it (all parts are included), filling it with water for a "dry run" test just to satisfy your curiosity and wonder and amazement that something really works as advertised, adding salt, filling the LifeReefugium with sand and algae, maybe a fish or two, adjusting the protein skimmer, and sitting back in wonder that it all really works! No time wasted on bulletin board "advice", no more trips to the hardware store for odd parts, just pure satisfaction!
And if you happen to be a first-time Lifereef customer: Congratulations! You have just saved yourself $$ and headaches and have joined an exclusive Lifereef community of happy and satisfied customers!
With Lifereef you will NEVER regret your purchase!
---
Setting up a true workable filter system is not as simple as getting a sump, a skimmer, a water pump, and sticking it all together with tubes and pipes. In other words: it is not an "off the shelf" project of just sticking things together. At best you will luck out, at worst you will live with that contraption, spend more time, effort, and money until you can afford a real system. That is the biggest problem my customers tell me when they are replacing their current "system" with a Lifereef, their multi-brand "system" just didn't work as planned or promised, looks like you know what, and when they see and use a Lifereef system it all makes sense.
That is why I will spend the time needed discussing your needs, your space, your aquarium, your current equipment, etc so that you have a true system designed to function as a system, not a conglomeration of multi-brand products.
---
Latest customer feedback: (More Here...

My new Lifereef skimmer has been running for 2 weeks on my 240 gal reef tank. I compared many skimmers before this purchase, Reef Octopus, Eshopps, Aqua Medic etc.. This is this the best skimmer I have ever owned. Since day one it has worked flawlessly. The amount of material it has removed from my tank is incredible. I have made one adjustment since the skimmer went into the sump. With my Eshopps skimmer I was under my tank every day adjusting,emptying and cleaning that skimmer. My six month old Eshopps now resides in a landfill where it belongs. The build quality of my Lifereef skimmer is top notch. The packaging was perfect. The instructions and setup were easy, no trips to Home Depot for a fitting or part. Cleaning out the cup? Buy this skimmer just for that. Turn a valve, drain the cup into a container, 2 minutes tops, didn't even get my hands wet. Have a question? Send Jeff an email or call him, he gets back to you quickly, unlike most companies. No micro bubbles, my water is crystal clear. How good do it think Lifereef products are? In the future, any piece of equipment that I need to replace or purchase, if Jeff builds it, I will get it from him. Why waste time and money on products that are more hype than value. Dan P
---
23 years ago I designed a built-in filter system behind the aquarium just like what is in many of the nano size aquariums today. It had the built-in chambers, protein skimmer, pumps, the whole works. I never went into production with this system because it was a pain in the @## to access and install an efficient protein skimmer. It's not a new concept.
Bottom line: I will only produce efficient and easy to access products based on functionality and performance. Even if its a neat idea, but a pain to work with, I will not produce it for the sake of making money.
---
Ever notice how many competitors use fancy words like computer controlled CNC machining, or use brightly colored acrylics (just like brightly colored fish bait), or cell cast acrylic, or polished edges, etc, but say nothing about their sump design. Well if its a poor design to start with all that CNC machine is doing is making very accurate parts for a poor design. The rest of the "features" do nothing for the performance or versatility of the sump design, and they've got you fooled, and your money....... In a Lifereef product you will read and see what makes our designs superior both in features, design, function, versatility, and we too use a CNC, but our parts are going into some of the finest designs you can get. Plus our photos are much larger than those postage-stamp size that most others show, what are they trying to hide....................
Daily/Weekly Update November 30
---
WEEKLY BUILD SCHEDULE
Click above if you have a system on order to see where you are in the que.
---
Only 100 to 110 filters/sumps will be built in 2014. Of these almost half have already been scheduled for a customer.
Give me a call to discuss why a Lifereef System will be the only filter system you will want to use.
---
Product Availability
Protein Skimmers: IN STOCK
Nano Prefilters for RSM aquariums: IN STOCK
Prefilter/Double: IN STOCK
Prefilters, Standard and Slimline: IN STOCK
Prefilters/Nano: IN STOCK
Calcium Reactors: OUT OF STOCK
Filter Cylinders: OUT OF STOCK
Bio-Reactor: IN STOCK
Sumps, Wet/Drys: NEVER STOCKED, must order to get one.
---
Latest NEW MODEL C Lifereef Sump/Refugium for Nano Tanks
Click HERE for more details.....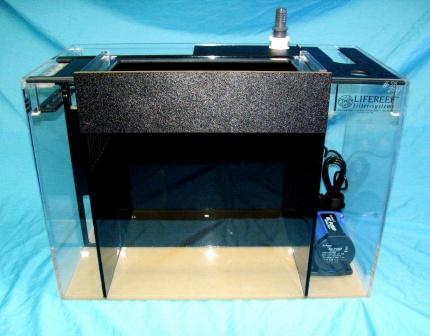 ---
SILICONE TUBING..... A recent article stated the issues with typical vinyl/pvc tubing, which the industry has been using for ever, but for those that want to eliminate any possible contamination with vinyl or pvc we now offer Silicone Tubing in all diameters, most popular is 5/8" (for 1/2" fittings), 3/4" and 1".
Click here for pricing
---
NOW AVAILABLE!
KESSIL A360W-E Series LED Fixtures
15% Brighter!
Call for guaranteed lowest price.
---
Lifereef offers a logical solution to a complete filter system, not just a bunch of parts stuffed into a "generic" filter sock box.
---
Are you ready to get out of the hobby?
Maybe you just need a more efficient protein skimmer.....
Two things make up the Berlin Method of keeping an aquarium: Live rock and protein skimming. Your live rock is your biological filter, the protein skimmer removes proteins and other unwanted compounds and will reduce your nitrates, if it's a good protein skimmer. The recent demand for bio-reactors and ferric oxide products should say enough about the inefficiency of many protein skimmers on the market today. It wasn't this way 15 years ago.
Though I make a bio-reactor too it is usually to deal with currently set up aquariums using other skimmer brands and inefficient sump designs and refugiums bordering on the micro size. The typical Lifereef user does not have nitrate problems. So, before you get out of the hobby due to frustration and a bad looking science experiment (both inside the cabinet and the aquarium) consider replacing your current inefficient needle-wheel, bubble-plate, nozzle injection, or whatever else they claim to be "the best" skimmer, with a Lifereef, you will notice a change for the better, and A LOT LESS MAINTENANCE AND WASTED TIME!
Click here:Protein Skimmers
---
Lifereef Bio-Reactor!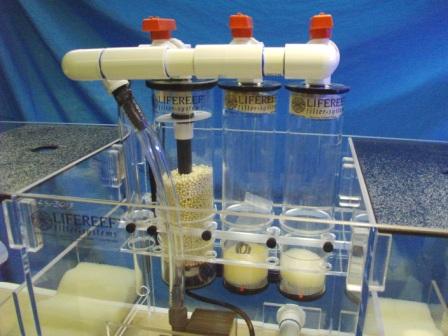 (click on photo for an honest-to-goodness BIG photo.
Bio-Reactor and 2x Filter Cylinder Assembly
Lifereef Accessory Rack
showing a bio-reactor and two media canisters.
Neat, tidy, ONE pump to run all canisters and extremely easy to remove individually for servicing.
This is what a SYSTEM should look like, NEAT!
The Accessory Rack is an integral part of all LIfereef standard sumps and can be incorporated into most custom sumps where space permits.
---
CUSTOM WORK always welcome whether it be your sump design, custom prefilter, refugium, acrylic reservoir, etc. Fax your diagram/sketch to 303-973-2044 for a fast quote, or email it to lifereef@denver.net
---